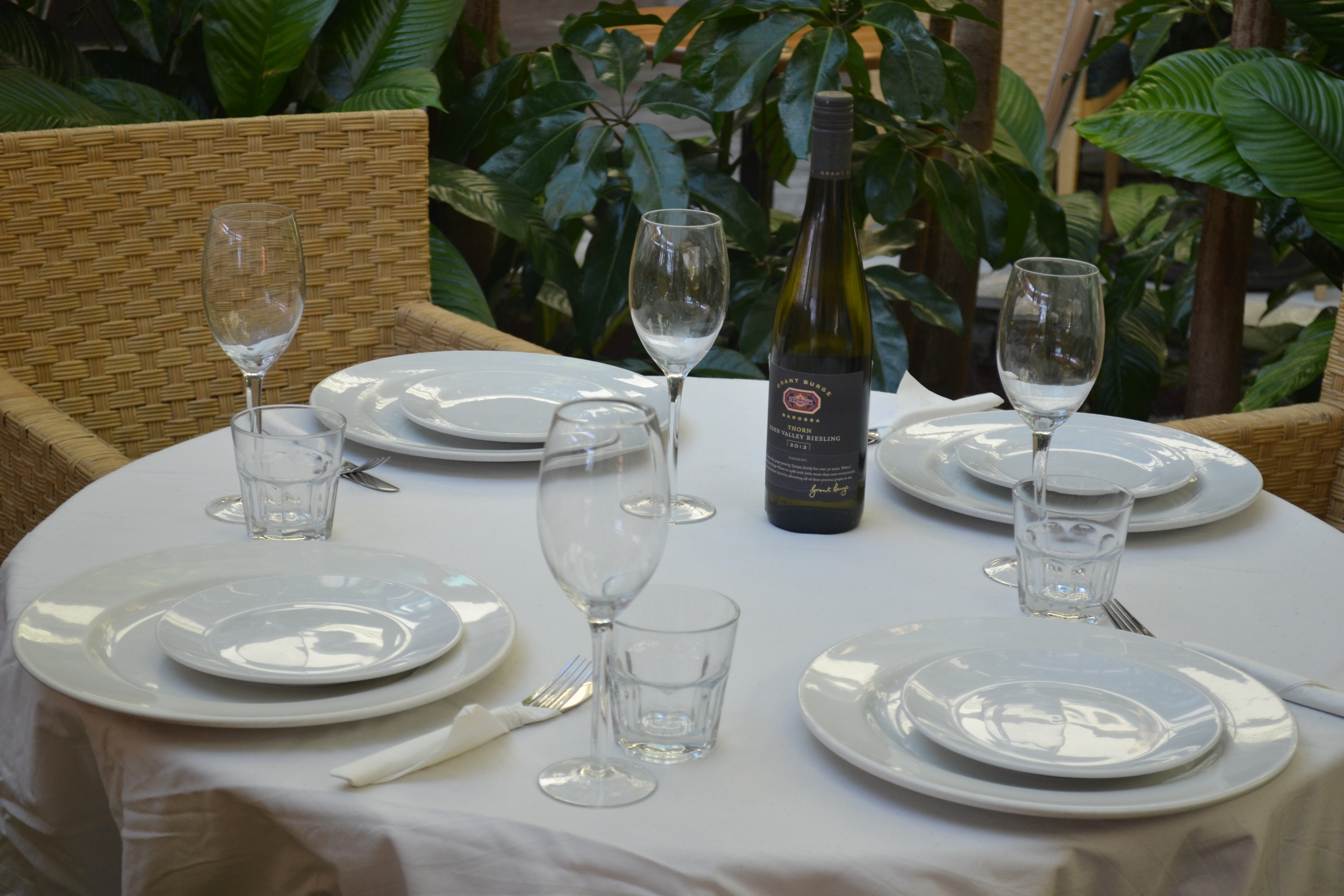 Tableware & Catering Equipment Hire
Minimum Hire of $250.00 unless ordered with our Catering
Set-up and Pack-down fee if required
Up to 35 people - 39.00
Up to 70 people - 65.00
Individual Items
Disposable cutlery (knife, fork & serviette) -.25 per set
Disposable plates - .15 - .30 per plate
Disposable cups,glasses, etc - .22 each
Porcelain cups & saucer - 1.00 per head
Salt and Pepper shaker - 1.00 per set
Glasses – beer, wine, water, champagne - 1.00 per glass
Crockery – soup, entrée, main, dessert plates/bowls - 1.00 per item
Cutlery (knife, fork, spoon) - 1.60 per set
Wine Coolers - 2.00
Water Bottles - 1.00
Jugs - 2.00
Trestle Tablecloths - 14.00
Trestle tables - 19.00
Cloth Serviettes - 2.00
Platters & trays - 3.00-5.00
Microphone, speakers & amplifier - 95.00
Large Ice Tub with Lid - 6.00
Insulated Soup Kettle 9 litre - 29.00
Rostrum (Lectern) - 29.00
Electric Grill - 79.00
Double electric Deep Fryer - 79.00
Single Electric Deep Fryer - 49.00
Chafing Dish Double unit including 3 hours fuel - 18.00
Electric Warming Trays - 10.00
3 Tier cake stand - 8.00
Cake stand - 5.00
Coffee / tea airpots (approx. 18 cup) - 18.00
Ramekins - 1.00
Double glass contact ceramic toaster - 185.00
Four Burner Solid Plate Easy Clean Barbecue - 45.00
Electric Glass-Front 4 Rack Pie/Food Warmer - 49.00
Chest Freezer - 45.00
Insulated Food Containers (650mm x 400mm) - 3.00
Ice-Pack/Heat-Pack for Food Containers - 1.00
Delivery Fee
No additional delivery fee is applicable if hired items are delivered & picked up at same time as catering.
You can pick-up/return at no charge.
If we deliver/pick-up then:
Inner Suburbs - $25.00 each way Outer Suburbs – 30.00 each way
Note: The cost of all missing or damaged equipment will be charged at replacement cost +10%.
Late returns will be charged at the standard per day hire rate.
Equipment must be clean and in full working order upon return.
Our room hire charge of $280.00 includes all crockery, cutlery & glassware
It is important to read our order form for all conditions, charges & loadings